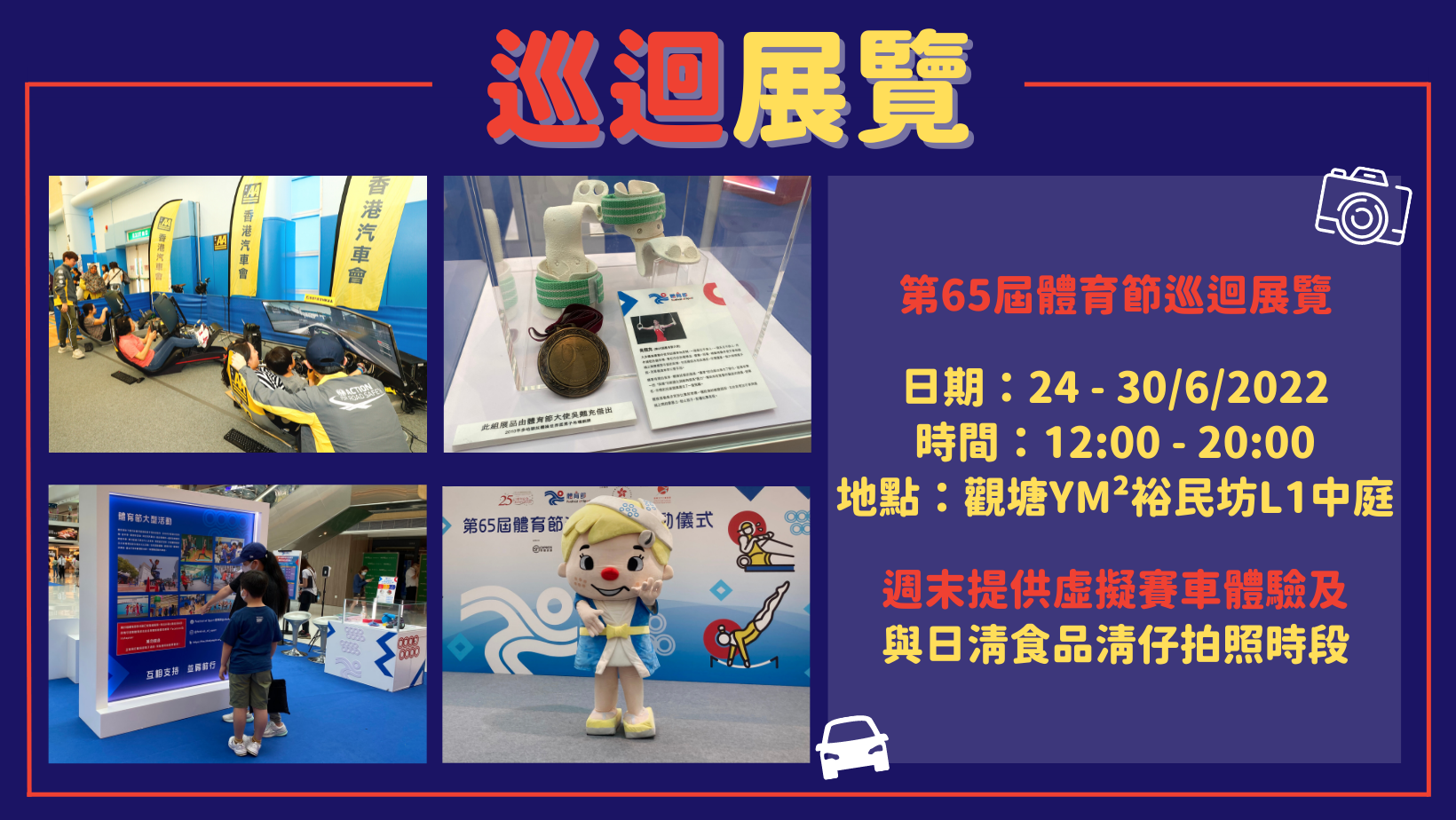 65th FOS Roving Exhibition - YM² Yue Man Square, Kwun Tong
Date: 24 June - 30 June 2022
Venue: L1 Atrium
Time: 12:00 – 20:00


Meeting with Ching Chai
During the weekend, Ching Chai of Nissin Foods will arrive at YM² Yue Man Square to meet the visitors. Don't miss the chance to take photos with him and get a FOS souvenir.
Date: 25 June -26 June 2022 (Saturday & Sunday)
Venue: L1 Atrium
Time:
13:10 – 13:30
13:50 – 14:10
14:30 – 14:50
15:10 – 15:30
15:50 – 16:10
16:30 – 16:50
17:10 – 17:30
17:50 – 18:10

Sports Trial – Virtual Motorsport
At the same time, the sports trial of Virtual Motorsport arranged by Hong Kong Automobile Association will be available during the weekend. Public can experience Motorsport through the sports trial. 
Date: 25 June -26 June 2022 (Saturday & Sunday)
Venue: L1 Atrium
Sports Trial Session: 12:00 – 20:00
Note: All participants should be at least 120cm height

Search and Snap in 65th FOS Roving Exhibition
The mini giveaway game will feature during the Roving Exhibition. Participants who complete the simple steps and follow FOS Instagram account, will have an opportunity to get a FOS souvenir.
Note: Programme might be subject to change. Please refer to FOS website and onsite helpers for the latest announcements. Souvenir will be distributed while stock lasts.

For more information and details of 65th FOS' activities, please visit the Festival of Sport's website at http://fos.hkolympic.org, subscribe to e-newsletter, and follow Facebook page at https://www.facebook.com/sfocfos or new Instagram account "@festival_of_sport" for the latest updates.
Organizer: Sports Federation & Olympic Committee of Hong Kong, China
Subvented by: Leisure and Cultural Services Department
Sponsors: S.F. Express (Hong Kong) Limited (Silver Sponsor), Nissin Foods (H.K.) Company Limited (Official Food Partner), FILA Marketing (Hong Kong) Limited (Official Sports Apparel Partner), and YM² Yue Man Square (Event Venue Sponsor)