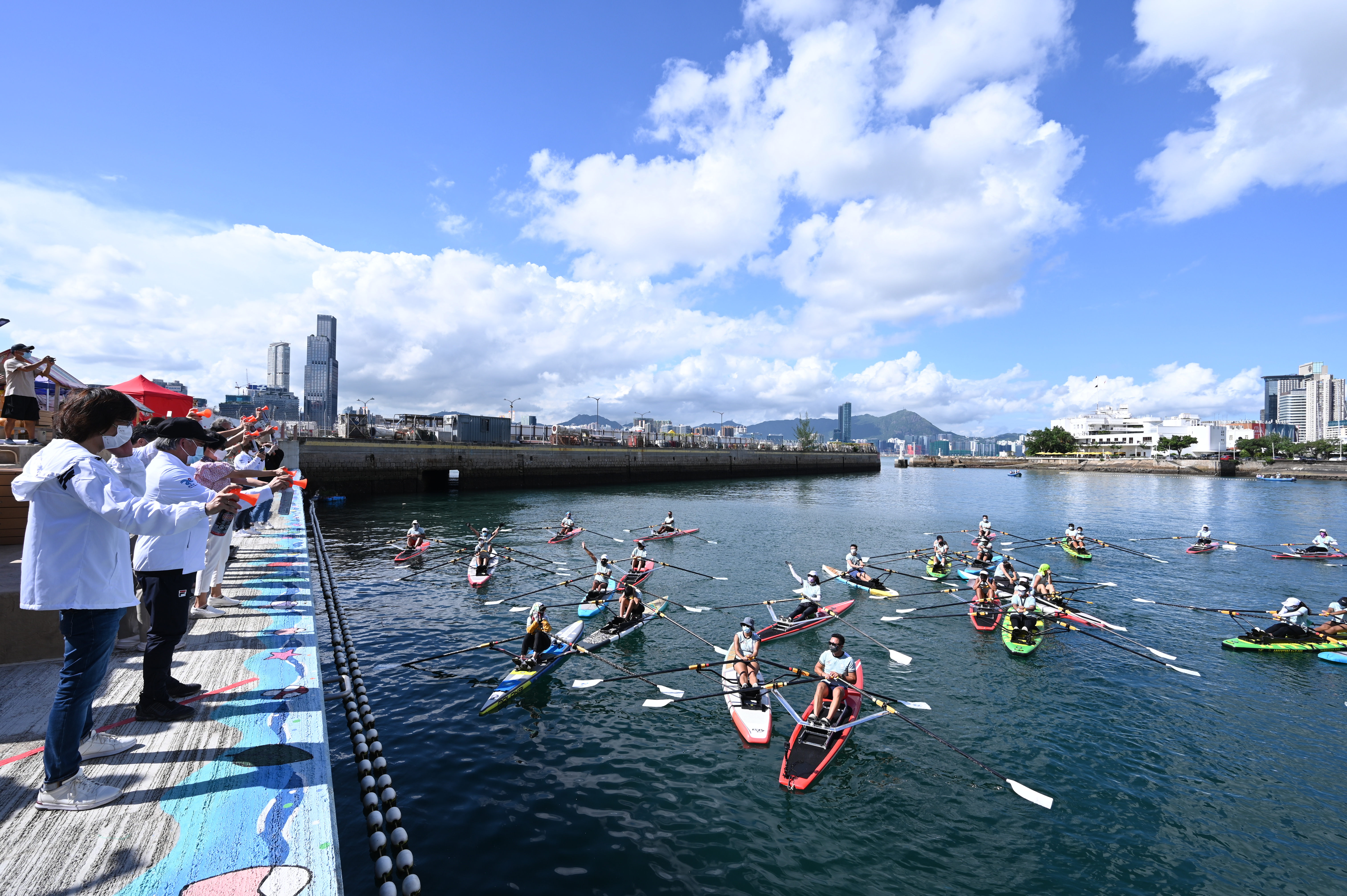 Event Highlight (Rowing)
65th Festival of Sport (FOS) first Signature Event – Summer Rowing Festival had successfully organized at Wan Chai Water Sports and Recreation Precinct on 13 August and 14 August 2022 (Saturday to Sunday).

The opening ceremony was officiated by Mr. Timothy T. T. FOK, GBS, JP, President of Sports Federation & Olympic Committee of Hong Kong, China (SF&OC), Mr. Tony K.L. YUE BBS, JP, Chairperson of the FOS Organizing Committee cum Vice-President of the SF&OC, Mr. Mike TANNER, BBS, MH, President of Hong Kong, China Rowing Association, and Mr. NG Kong Wan, Chairman of Hong Kong, China Rowing Association on Saturday afternoon (13/8) and kick-started the Cross Harbour Parade. 25 rowing boards travelled from Wan Chai to Tsim Sha Tsui and return to the starting point under great sunlight. The public joined and witnessed these special moments when the rowers rowed across Victoria Harbour.

Apart from the Cross Harbour Parade on Saturday, Mr. LEUNG Chun Shek (Rowing), the 65th FOS Ambassador, and Miss TAM Hoi Lam, Olympian and Hong Kong swimming athlete experienced board rowing and enjoyed it a lot. Also, Hong Kong, China Rowing Association set up water tank pool at the event venue and allowed the participants to experience board rowing under the coach's instructions on land, to raise the public's interest in board rowing. On Sunday, registered participants of board rowing sports trial could have a special experience on water. Mr. LEUNG Chun Shek offered detailed and professional guidance to the participants, and some of the FOS Buddies had also taken part, which was a valuable experience for all of them. Also, exhibition of rowing boats, 1-minute ergo challenge, as well an AR/VR indoor rowing experience were offered for walk-in participants to challenge themselves and enjoy the sports.

The remaining two Signature Events would be held in the next two weekends. For more details of FOS events, please refer to the programme of our website.