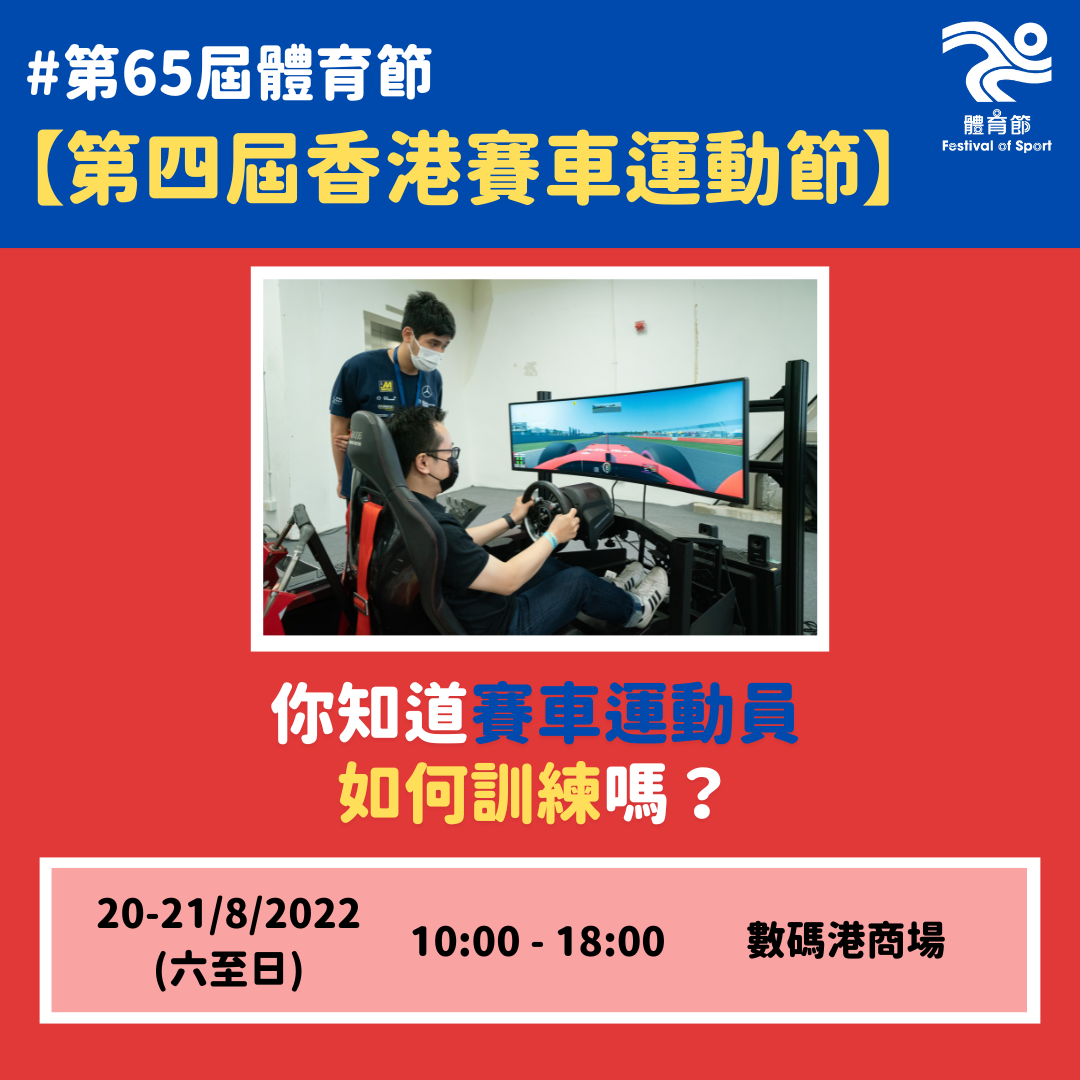 Sports Trivia (Automobile)
65th Festival of Sport Signature Event - The 4th Motorsport Festival will be held on 20 August and 21 August (Saturday and Sunday) at The Arcade, Cyberport.
Some people think that, athlete just sits on the driver's seat without big movements during the motorsport competition. Do you know how do they get trained?
Motorsport is one of the sports that require an ultimate level of physical fitness. The heart rate and pulmonary capacity of a motorsport athlete are similar to marathon runners. Therefore, they are required to maintain a series of training, such as swimming, running, and cycling, to strengthen their cardiovascular function. In order to handle the high turning speed and steering wheel, weight training under high intensity for arms, neck, and breast are necessary. Also, as races are in a fast and fierce pace and atmosphere, they must train their hand-eye coordination, concentration, and immediate reaction in their daily lives, so as to maintain the safety of all athletes on the racetrack.
Apart from the digital motorsport and esports experience zone offered in the previous roving exhibition, esports demonstration matches, booths, Motorsport Industry Exhibition and Workshop, as well as Formula E and other race car displays will be provided. The development of motorsport in Hong Kong, such as the history of the Hong Kong Automobile Association and athletes' equipment, will be introduced by professional staff and Hong Kong motorsport athletes comprehensively. It can undoubtedly broaden the public's understanding through diverse and informative knowledge.
65th Festival of Sport - The 4th Motorsport Festival will be opened for registration on 9 August (Tuesday) at 10 a.m. The details are as follows:
Date: 20 August – 21 August 2022 (Saturday to Sunday)
Time: 10:00 – 18:00
Venue: The Arcade, Cyberport
Fee: Free of charge
Pre-registration quota: 400 people per day
Registration date and time: 9 August 2022 (Tuesday) 10 a.m. – 19 August 2022 (Friday) 12 n.n. (Registration will close when the quota is full)
Participants who register online in advance can redeem a FOS souvenir on the event day. Limited quota, on a first-come-first-served basis. Register now if you are interested!
Registration link: https://fos.hkolympic.org/zh/65-automobile

(Registration form in Chinese only)