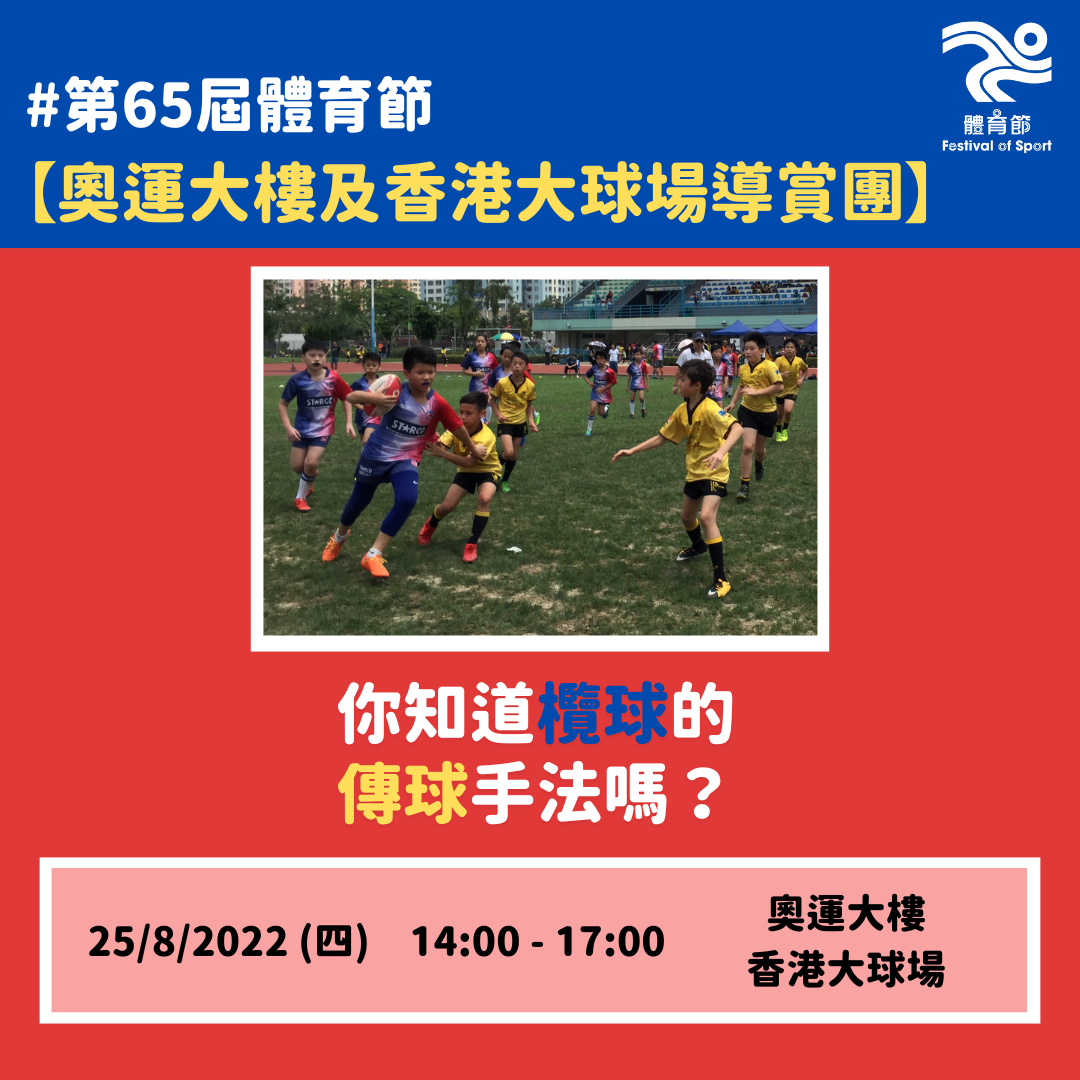 Sports Trivia (Rugby)
65th Festival of Sport (FOS) – Tour of Olympic House and Hong Kong Stadium will be held on 25 August (Thursday). A rugby demonstration and trial session will be arranged during the tour. How much do you know about Rugby? Do you know the types of passing in rugby?
There are two types of passing in rugby, but these can only be made towards the team's own goal line. The first type is called "Pop Pass". When athletes perform the "Pop Pass", he/she should grab the centre of the ball with his/her hands and place it at waist level when passing. Then push the ball forward like splashing water. The advanced type of passing is the "Dive Pass". One of the athlete's hand should grab the front part of the ball and the other hand place at the bottom half of the ball. Use the back hand to exert force and pass the ball out to achieve a spinning effect, resulting in a pass with higher speed and further distance.
Other than passing, basic rules and techniques, such as defencing moves and running, which will be introduced by Hong Kong Rugby Elite athletes, the guided tour will also visit different locations of Olympic House and Hong Kong Stadium, and have interaction with Hong Kong athletes. Participants can have a deeper understanding of Olympism, sports development in Hong Kong, history, and the background of the SF&OC. The tour is opened for registration via the FOS website (https://fos.hkolympic.org/zh/ohhks-tour) from today until 18 August. The registration will be confirmed by draw if the number of applicants exceed the quota. SF&OC will also inform all applicants of their status (successful or unsuccessful) via email on 19 August (Friday). Each successful participant will receive a FOS souvenir on the event day. The tour will be conducted in Cantonese and free of charge. Register now if you are interested!
(Registration form in Chinese only)